Why Do Business License Applications Get Rejected?
The length of time to obtain the proper license is partially dependent on the licensing jurisdiction. Processing time by the licensing agency depends on the length and complexity of the application, level of review required, number of stages of review (inspector, board approval, etc.), and the amount of staff resources the agency has at the time of application. One thing is true for all licenses: a rejected application will increase the time it takes to get a license issued.
Preparing a license application can take time and money. Industry specific licenses often require a lengthy application with attachments, such as fingerprints, financial statements, bonds, etc. When an application is submitted with mistakes or omissions, everyone's time is wasted. An individual or company whose license is delayed loses out on potential revenue. A rejected renewal can result in a lapsed license, which can cause business to come to a grinding halt in that jurisdiction.
Incomplete Submission

The most common reason an application is rejected is because it is incomplete. Sometimes this is because questions on the application were left blank, attachments were missing, or some prerequisite requirement was not met. We recommend that all questions are addressed on an application. Even when a question is inapplicable to the individual or entity, it is better to write "N/A" and explain why it does not apply. Make sure to read directions carefully and be familiar with the industry to identify all attachments and supplemental documents.

Prerequisites such as obtaining a certificate of authority with the Secretary of State's office, or tax registrations should be identified at the very beginning of the licensing process. If they are not already held, these items should be handled as soon as possible. Prerequisites that may create a barrier to licensure such as a physical location within a state or experience requirements, should also be identified as soon as possible so the applicant can determine whether they want to go through the licensing process.

Invalid Signature

Another common reason an application is rejected is the signature pages are not originals, not notarized properly, not signed by the right people, or not signed at all. Oftentimes, the reason for these errors is due to unclear instructions. When an original signature is required, meaning the actual pen-to-paper page is submitted with the application, it is usually not noted in the instructions. In the age of digital signatures, email scans and faxes, it is easy to see how applicants would submit a copy rather than the original.

We recommend going through each application and noting sections that need to be signed, whether it also needs to be notarized, and who needs to sign it. Call the licensing authority if you have any questions on submitting originals or copies.

Using an Outdated Form

Applicants may follow all the steps perfectly, only to have their application rejected because they used an old form. Licensing agencies update and change forms frequently and oftentimes without notice. It is possible to start an application, and by the time it is filed, the form is outdated. Make sure you check with the licensing agency to ensure you have the most up-to-date application form.

Unclear Instructions

The most frustrating reason a license is rejected is when a requirement is not listed in the instructions or on the application form. We have taken the proactive measure of including ALL requirements on each form for our clients; the average applicant would likely be unaware of these additions.
The Solution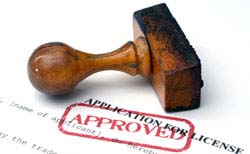 Preparing an application that is complete and correct means your license will be issued faster. Instead of spending a copious amount of time researching to ensure your application will not be rejected, let the experts handle it! Third party providers are skilled at preparing applications so they are accepted the first time. Save precious time and money by outsourcing all license initial and renewal filings.
InCorp offers our clients a comprehensive suite of services to provide your all your business licensing solutions!
Stay in the know!
Join our newsletter for special offers.